The holidays are upon us, but does that really matter when you are not able to be with someone you care about?  What do you do now?  Do you stop living life? Decisions and choices are a part of life.
Know it is difficult to get started, but start anyway.
Here are some ideas to help YOU through the holidays and any time after a loss:
Get something especially for YOU, a gift, an ornament, flowers etc.
Go out with a friend or by yourself to some place new and different
Take time to remember the your special someone in a special way such as lighting a candle
Be creative and make something that will forever be your symbol of your caring
Do something with the special person in your thoughts as if they were beside you
Help someone else
Pay attention to the signs around you, are they reminders of your special someone or a sense they are close by
Being aware of your triggers means you are better prepared to handle a sudden sad moment.  Showing emotions is allowed, it indicates you miss someone; chances are those around will understand.
Plan ahead for possible triggers or reminders that might cause you to be emotional; this is not right or wrong, but you may decide to be or not to be with certain people who trigger you at this time.
Sometimes you are the one moving forward and
the rest have not started yet.
Put words to your feelings
HAPPY           SAD                ANGRY          FRUSTRATED         ANXIOUS       ANNOYED
UPSET           LONELY        CONFUSED             OVERWHELMED     HOPEFUL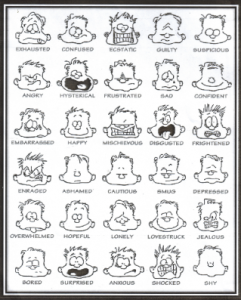 How you feel is important.
Others may not understand and that is okay.
          MY GIFT FOR YOU       
Call for a short chat if you are struggling with holiday happenings